---
David and Brooklyn Beckham attended the Victoria Beckham Spring 2017 fashion show. I love the David Beckham look. It isn't the typical formal suit! Maybe... because... the collection is not very formal?
David y Brooklyn Beckham no se quisieron perder el desfile de la colección primavera verano del 2017 de Victoria Beckham. Me encanta el look de David. ¡No es el típico traje formal! Quizás... porque... ¿la colección no es muy formal?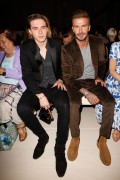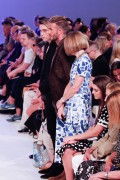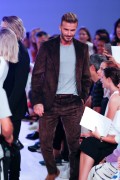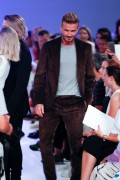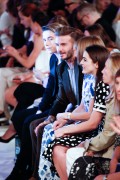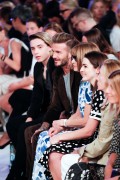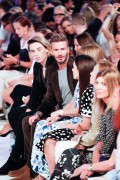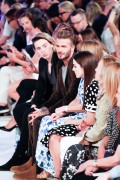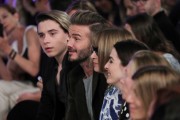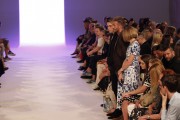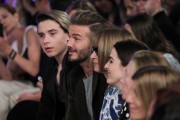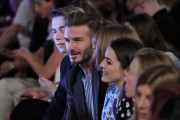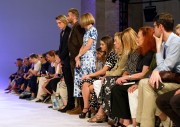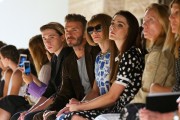 David was setting next to Anna Wintour. The Vogue USA editor is a classic at Victoria Beckham show. This time, she was accompanied by her daughter Bee Shaffer. She is very pretty!
Sentada junto a David estaba Anna Wintour. La editora de Vogue USA ya es un clásico en los desfiles de Victoria. Esta vez estuvo acompañada por su hija Bee Shaffer. ¡Es muy guapa!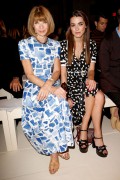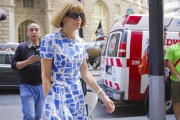 And next to Brooklyn was sitting one of the most influential people in the fashion world: Suzy Menkes, Vogue UK fashion editor. Also, Suzy usually attends the Victoria shows.
Y sentada junto a Brooklyn Beckham estuvo uno de los rostros más influyentes en el mundo de la moda: Suzy Menkes. Suzy también asiste normalmente a los desfile de Victoria.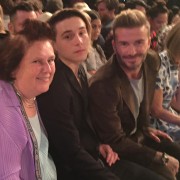 The Russian, Miroslava Duma, didn't miss the meeting and she attend the show wearing a lovely dress in red. I love seeing Mira at Victoria Beckham show, I like her style. She was sitting next to Nasiba Adilova.
La rusa, Miroslava Duma, no se quiso perder el acontecimiento y fue al desfile con un vestido precioso rojo. Me encanta ver a Mira en el show, me gusta mucho su estilo. Se sentó junto a Nasiba Adilova.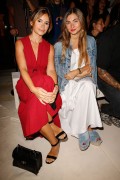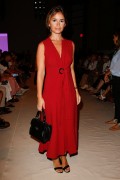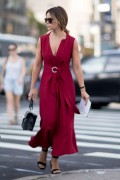 She was born in Milan but she is living in New York, Giovanna Battaglia attended the event wearing a perfect dress in red. Giovanna is stylist ans she works for magazines like Vogue Japan or W magazine. Her look was one of my favourite.
Nacida en Milán pero residente en Nueva York, Giovanna Battaglia acudió al evento con un precioso vestido rojo. Giovanna es estilista y colabora con revista como W magazine o Vogue Japon. Fue uno de mis looks favoritos del desfile.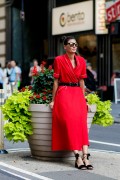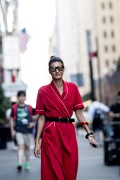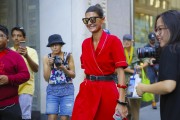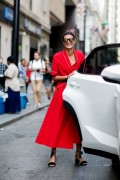 As you know, Victoria Beckham has made a collaboration with Estee Lauder. So, one of the guest was the chairman emeritus of Estee Lauder, Leonard Lauder.
Como ya sabéis Victoria Beckham ha hecho una colaboración con la marca de cosméticos Estee Lauder, por lo tanto, el presidente emérito de Estee Lauer, Leonard Lauder, fue otros de los invitados.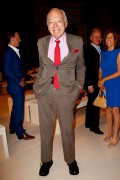 The Chinese model, Liu Wen, and the Korean model and television personality, Irene Kim, were sitting together at the front row. Before the show, Liu was eating with Victoria Beckham at Balthazar restaurant.
La modelo China, Liu Wen, y la modelo koreana y personalidad de la television, Irene Kim, estuvieron sentadas juntas en el front row. Liu también estuvo comiendo con Victoria en Balthazar después del show.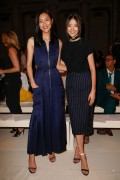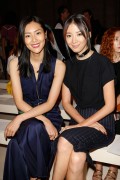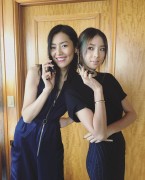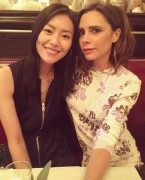 Sneakers are trend for several seasons, so that the English blogger
Tamara Kalinic
of
The Glam and Glitter
attended the show wearing a Victoria Beckham white dress and Gucci bag and sneakers. Would Victoria imagine that dress with sneakers? I love the look but I am not very objective because I am huge fan of the sneakers. Therefore, for me the best look is for Tamara Kalinic.
Las playeras son tendencia desde hace varias temporadas tanto es así que la bloggera inglesa
Tamara Kalinic
de
The Glam and Glitter
acudió al desfile con un vestido blanco de Victoria Beckham y playeras y bolso de Gucci. ¿Se habría imaginado Victoria ese vestido con playeras? A mí me encanta como queda pero no soy muy objetiva porque soy muy fan de las playeras. Por lo tanto, para mi el mejor look del desfile es para Tamara.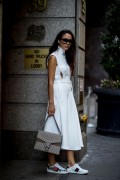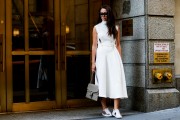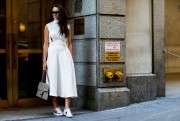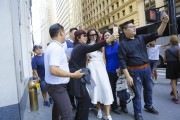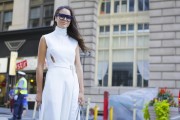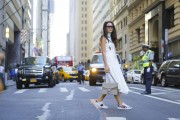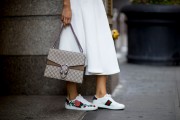 Other blogger that was at the show was the Brazilian, Thassia Naves. Thassia wore a Skazi dress in navy with green details, Stella McCartney shoes and trench and Hermes handbag.
Otra blogger que estuvo en el desfile fue la brasileña Thassia Naves. Thassia llevó un vestido ajustado azul marino con detalles verde de Skazi, trench y zapatos de Stella McCartney y bolso de Hermes.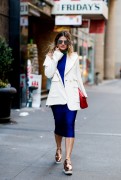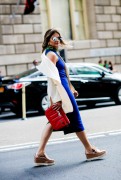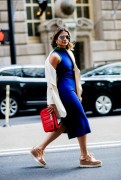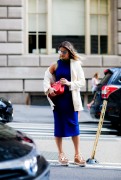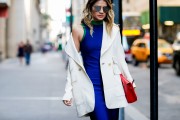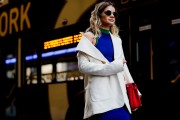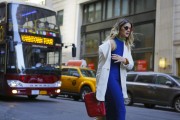 Elenora Carisi, Italy, known for her blog Jou Jou Villeroy also had the honor to go to the fashion show. She wore a long lace dress, glitter top, Miu Miu shoes and red clucth. Her look was one of the most photographied by the street style photographers.
Eleonora Carisi, Italia, conocida por su blog Jou Jou Villeroy también tuvo el honor de ir al desfile. Con un vestido de encaje largo, top negro de brillantina, zapatos de Miu Miu y clucth rojo no dejó indiferente a los fotógrafos del street style y fue uno de los looks que más gusto.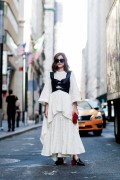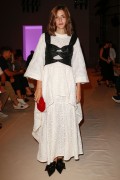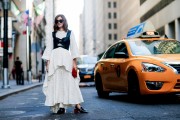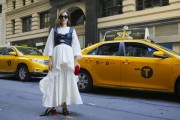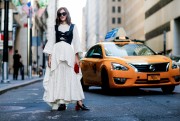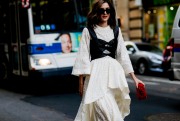 The Danish, Pernille Teisbake, stylist and blogger wore a floral dress, graphic tee and Loewe handbag. Graphic tees are trend!
La danesa, Pernille Teisbaek, estilista y blogger llevaba un vestido floral, camiseta y bolso de Loewe. ¡Las camisetas con mensaje o dibujo serán tendencia!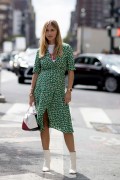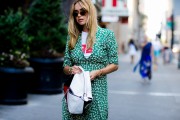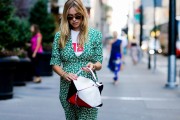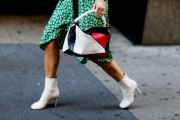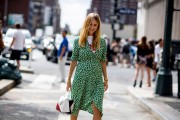 Other guest was
Chriselle Lim
. She is a Korean-American blogger of
The Chriselle Factor
. She wore a Miu Miu swaeater, skirt and bag and Schutz shoes.
Otra invitada fue
Chriselle Lim
. Es una blogger koreana-americana, su blog es
The Chriselle Factor
. Llevaba jersey, falda y bolso de Miu Miu y botines de Schutz.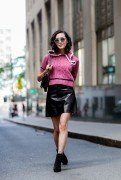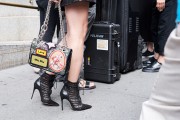 The it-girl Tiffany Hsu wore an oversize white shirt and skirt and leopord bag. I like that outfit, she looks great.
La it-girl Tiffany Hsu llevó una camisa y falda oversize de color blanco y para dar un toque de color eligió un bolso de leopardo. Me gusta su outfit, luce estupenda.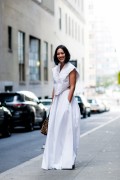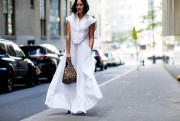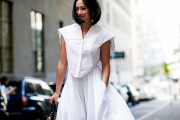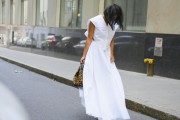 Mariah Bernardes
is a Brazilian blogger. She writes on
Blog da Mariah
. She went to the event with a brown dress, gold flat sandals and a Gucci bag in red.
Maria Bernardes
es una blogger brasileña. Ella escribe el
Blog da Mariah
. Mariah llevó un vestido marrón, sandalias planas dorads y bolso de Gucci de color rojo.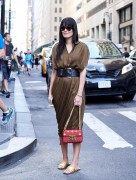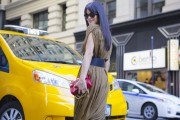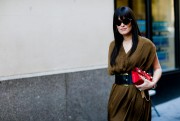 Maybe the second best look for me was the Lisa Aiken's look, . Lisa is the retail fashion director of Net a Porter. The main cloth in the yellow skirt that I really love it, it is from Awake, the shirt is from The Row and the shoes from Prada.
Probablemente, el segundo mejor look para mi fue el de Lisa Aiken. Lisa es directora de venta al por menor de Net a Porter. Llevaba una falda amarilla que es la pieza principal del look y me encanta de Awake, blusa blanca de The Row y zapatos de Prada.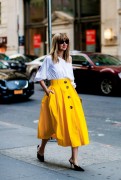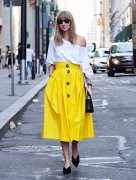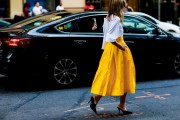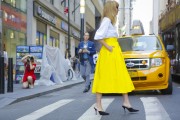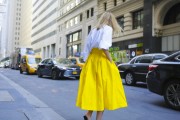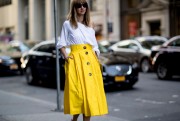 The Turkish Ece Sukan was one of the most photographies. Ece is former editor at Vogue Turkey, she wore a Celine top and Balenciaga skirt.
La turca Ece Sukan fue una de las más fotografiadas. Ece es editora en Vogue Turquía, llevó un top de Celine y falda de Balenciaga.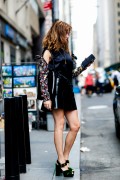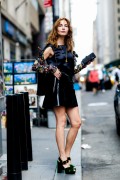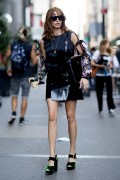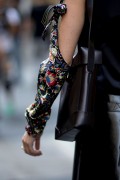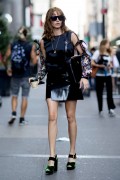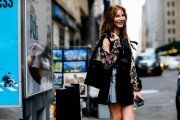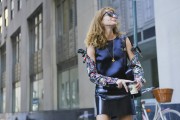 One of the most influential people in the fashion world is
Helena Bordom
. She is blogger and her mun is the Vogue Brazil Style director, Donata Meirelles. She attended the Victoria Beckham fashion show with a 3.1 Philip Lim top, Louis Vuitton bag, Vetements jeans, Charlotte Olympia sandals and sunglasses from her own brand.
Una de las personas más influyentes del mundo de la moda es
Helena Bordom
, Es blogger y su madre es la directora de estilo de Vogue Brasil, Donata Meirelles. Asistió al desfile de Victoria Beckham con un top de 3.1 Philip Lim, bolso de Louis Vuitton, vaqueros de Vetements, sandalias de Charlotte Olympia y gafas de sol de su propia colección.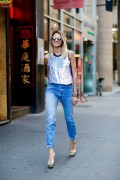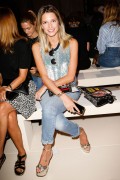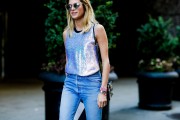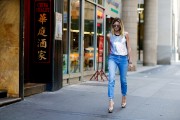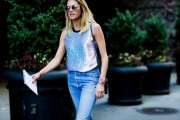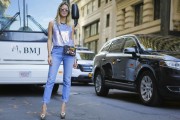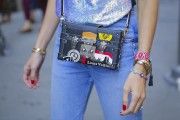 Sofia Valkiers
lives in Belgium. She is the author of the blog
Fashionata
. Sofia wore a total black look. The dress is from Aleana Akhmadullina. She took a photo with David!
Sofia Valkiers
vive en Bélgica. Ella es la autora del blog
Fashionata
. Sofia llevó un total black look, el vestido es de Aleana Akhmadullina. Ella se hizo una foto con David!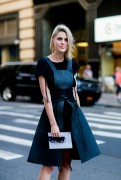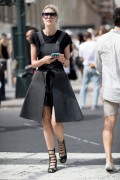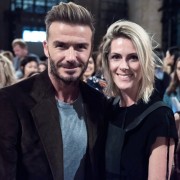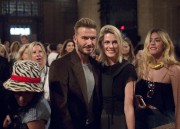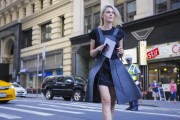 Alexandra Pereira
is a Spanish blogger. Her blog,
Lovely Pepa
, is one of the most followed in Spain. Of course, I am one of that followers. Alexandra wore a fringed Astars skirt in black, Anine Bing top, Mola Sassa clutch and Fendi sunglasses.
Alexandra Pereira
es una blogger española. Su blog,
Lovely Pepa
, es uno de los más seguidos en España. Por supuesto, yo soy una de sus seguidores. Alexandra llevó una falda negra de flecos de Astars, top de Anine Bing, clucth de Mola Sassa y gafas de Fendi.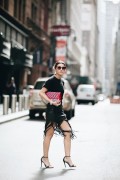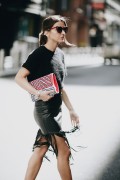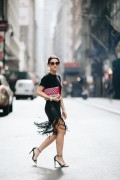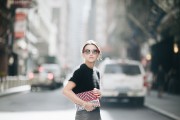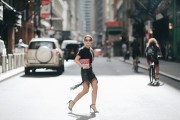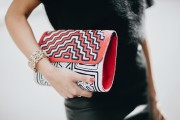 Yasmin Sewell
is the style.com director. She attended the Victoria Beckham fashion show with a Rejina Pyo dress and Gucci shoes.
Yasmin Sewell
es la directora de la famosa web style.com. Asistió al desfile con un vestido de Rejina Pyo y zapatos de Gucci.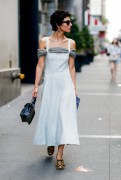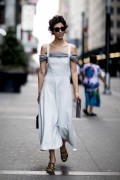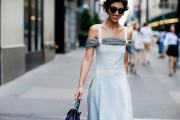 The French blogger
Emilie Higle
also attended the event. She wrote on her blog,
My little fashion diary
: "... (it) was my favourite show of this NYFW". She wore Zara jeans, Marks and Spencer blouse, Anya Hindmarch bag and Balenciaga boots.
La blogger francesa
Emilie Higle
también estuvo presente en el evento. Escribió en su blog,
My little fashion diary
: "... fue mi show favorito de esta NYFW". Llevó vaqueros de Zara, blusa de Marks and Spencer, bolso de Anya Hidmarch y botas de Balenciaga.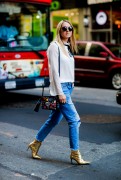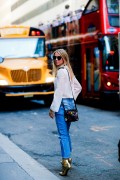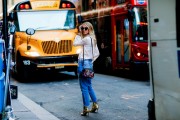 Eva Chen
is a Chinese writer and editor. She wore a Loewe bag, Coach shoes, Cedric Charlier floral dress and Gentle Monster sunglasses. Cool look!
Eva Chen es una editora y periodista china. Llevó bolso de Loewe, zapatos de coach, vestido con estampado floral de Cedric Charlier y gafas de Gentle Monster. ¡Un look guay!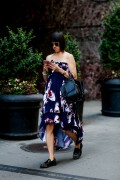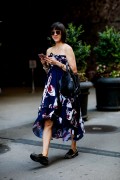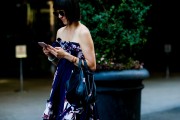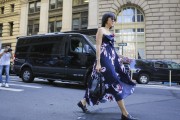 Annabel Rosendahl
of
Annabel Rosendahl blog
is from Norway. She went to the show in Celine shirt, Re-Done skirt, Givenchy bag and Saint Laurent leopard boots.
Annabel Rosendahl
del blog
Annabel Rosendahl
es de Noruega. Ella fue al delfile con camisa de Celine, falda de Re-Done, bolso de Givenchy y botas de leopardo de Saint Laurent.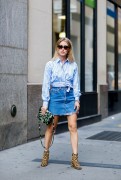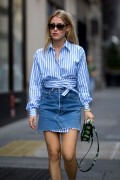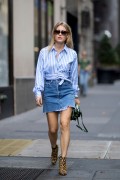 Camille Charriere
is a French fashion blogger who lives in London. She writes on
Camille over the rainbow
and she published a photo on Instagran at Balthazar restaurant with Victoria. I like her bag, it's from The Row.
Camille Charriere
es una bloguera de moda france que vive en Londres. Escribe en
Camille over the rainbow
y publicó en su Instagran una foto con Victoria en el restaurante Balthazar. Me gusta su bolso, es de The Row.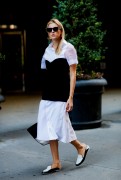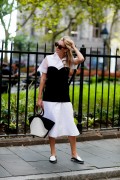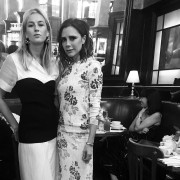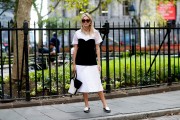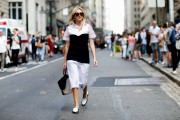 Veronika Heilbrunner
is blogger from Germany. She is the author of
Hey Woman
. I like Veronika's style because she wears a lot of sneakers, I like the heel shoes but I obsessed with snekears since I was a child.
Veronika Heilbrunner
es una blogger de Alemania. Es la autora de
Hey Woman
. Me gusta el estilo de Veronika porque lleva muchas playeras, me gustan los zapatos de tacón pero estoy obsesionada con las playeras desde que era una niña.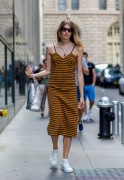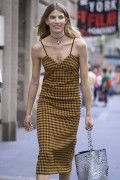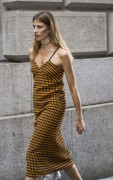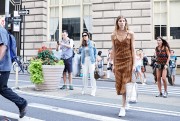 Yuwei Zhangzou
of the
Yuyu Fashion Book
blog is a Chinese but she lives in Paris. Yuwei wore lovely Roger Vivier sneakers, Tibi dress and Louis Vuitton bag. It's an amazing look!
Yuwei Zhangzou
del blog
Yuyu Fashion Book
es china pero vive en Paris, Yuwei llevó unas playeras perfectas de Roger Vivier, vestido de Tibi y bolso de Louis Vuitton. ¡Es un look fantástico!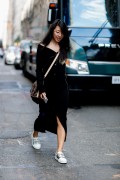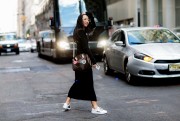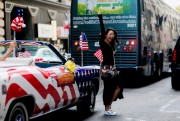 Joanna Hillman
, Canada, is Harpers Bazaar style director. She wore a total black look, I like her braid!
Joanna Hillman
, Canadá, es directora de estilo de Harpers Bazaar. Llevó un look de color negro. ¡Me gusta la trenza!