---
El 26 de septiembre, David y Victoria acudieron al show de Marc Anthony en Los Angeles.
David and Victoria Beckham attended Marc Anthony show in Los Angeles on September 26.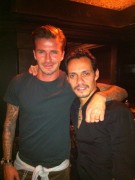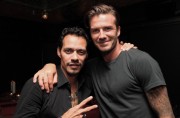 @MarcAnthony
Pasando un buen rato con mis amigos David Beckham y @victoriabeckham despues del show en LA http://yfrog.com/h86s6lrj
Got to hang out backstage with my friends David Backham and @victoriabeckham after my LA show http://yfrog.com/mfp5jtrj
@victoriabeckham
Concierto de Marc Anthony en Los Angeles, muy bueno!! Quiero aprender a bailar salsa!!! X vb
Marc Anthony's LA concert, so good!!!!!!! I want to learn to salsa!!!! X vb http://yfrog.com/kgle1ewlj

David Beckham Facebook
Aquí una foto con mi amigo, Marc Anthony. Fuimos a verlo en concierto la otra noche con Victoria, el fue increible... un gran artista. Nosotros lo amamos...
Here's a picture with my mate, Marc Anthony. Went to see him in concert the other night with Victoria, he was incredible...a great performer. We loved it...